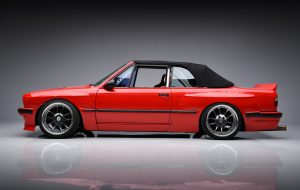 Jayson Near purchased his 1989 BMW 325i from a friend. The car was just a shell when he got it, but over the years has been built into a drift car – it was, in fact, the first car he used when he took up drifting as a hobby in 2015.
One of the things that makes this BMW unusual is its power plant: an SR20VET that puts down 485 horsepower and 415 ft/lbs of torque. To accomplish this, the engine features a P11 VVL head, an S13-sleeve bottom end, a Hypertune intake manifold and components from FineARC, including an EVO turbo SR manifold, a downpipe, a catch-can setup and a shroud.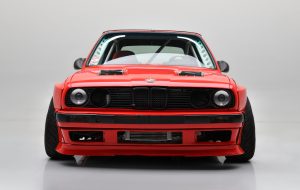 The exterior features a Pandem widebody kit with iForged wheels, 18×9 up front with a zero-degree offset and 18×10 at the rear with a negative 12-degree offset.
Inside the drift-ready BMW sits a set of Sparco seats and a full cage. The driver can control the vehicle thanks to a Personal Steering wheel and a Tilton pedal set. The engine is monitered with an APEXi rpm gauge.
See this BMW on the Polo Field at WestWorld of Scottsdale during the Future Collector Car Show, held January 22 as part of the 2023 Barrett-Jackson Scottsdale Auction. Keep up with the FCCS on Instagram at @FutureCollectorCarShow.
©2004-2023 Barrett-Jackson Auction Company, LLC. The World's Greatest Collector Car Auctions®
The names Barrett-Jackson, Barrett-Jackson.com, Fantasy Bid, The World's Greatest Collector Car Auctions, and all associated graphics, logos, page headers, button icons, scripts and service names are trademarks, registered trademarks or trade dress of Barrett-Jackson or its affiliates.
By subscribing, you confirm that you have read and agreed to Barrett-Jackson's Terms of Use and Privacy Policy.